artist exhibitions: current | upcoming | past | submissions
The Space Between
porcelain sculpture by Veva Edelson
December 5, 2007 - January 26, 2008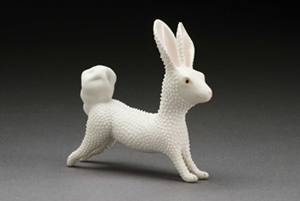 detail from Sweet Bitterness

Ceramicist Veva Edelson presents The Space Between, a series of porcelain sculptures that explore personal symbols as a way to articulate the intimate space between action and reaction, insult and injury and ultimately the possibility of alternate endings. She examines the influences of archetypes from mythology and literature, Egyptian hieroglyphs, Greek Cycladic figures and prayer votives on the stories that she tells in the here and now.

Her process incorporates found objects, layering of divergent physical attributes and color to echo distress and invoke a precious quality simultaneously. Manifestations such as a rabbit wearing the bumpy texture of a lambís fleece or a human face trapped in the body or wearing ears of an animal are the result. Her work invites the viewer to engage with the figure and discover a narrative that is both emotional and personal.