When: April 4 - 26, 2008
Where: NoneSuch Space, 2865 Broadway at 29th St, 2nd Flr, Oakland, CA 94611
Gallery Hours: Wed - Sat, 1 - 6
Artist's Reception: Oakland Art Murmur's First Friday, April 4, 2008, 6 - 10 PM

The April exhibition, Second Nature, features the paintings of San Francisco artist, Elizabeth Garsonnin, and Oakland artist, Doron Fishman.
In the exhibition, Second Nature, the paintings of Elizabeth Garsonnin use elements of the natural world – real & imagined – the environments where she has traveled on different continents, geological eras, the gardens she has touched and her dreams. In her works, she paints the dueling forces of restraint and letting go, the solidity of the earth and the vastness of air, the tension of fire, the vigor of new vegetation, and water, all interwoven like a musical score. Exploring her fascination with the tenacity of plants, birds and animals to thrive in often challenging conditions, she captures this life-force energy. Her canvases and paper are new territory to explore and plant what she likes—it is a journey of discovery, beauty and revelation.
The art of Elizabeth Garsonnin is profoundly influenced by the natural landscape. Born in Barbados of French parents, she received her BFA from Concordia University in Montreal. Since moving to the San Francisco Bay Area in 1985, she has worked with a public interest communications agency using her artistic skills for the benefit of various social, women's and environmental issues. While living ocean side in Bolinas, Ms. Garsonnin was influenced by the time spent creating her garden and observing Earth's natural rhythms. Developing and honing her skills as artist, illustrator and filmmaker, she has worked extensively in documenting and interpreting wildlife, nature and environmental issues. She currently lives in San Francisco.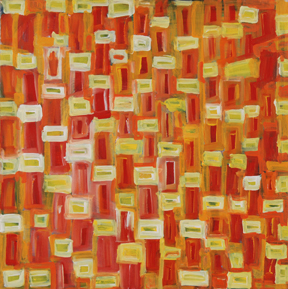 In his series of cityscape paintings, Oakland artist Doron Fishman takes his inspiration from the man-made world, and his paintings move far beyond that artificial world. He captures the energy and chaos of his subjects in their purest form. Fishman creates a sense of bright and inviting spaces through his use of rectangular blocks of vivid color and suggestions of linear perspective that hint at an urban environment. His evocative paintings of pattern, space and shape become fresh and stimulating new landscapes for his viewers and their imaginative journeys. Doron received his BS in Mechanical Engineering from San Francisco State University and studied Fine Art at the San Francisco Art Institute, California College of Art and San Francisco State University.