artist exhibitions: current | upcoming | past | submissions
Nature Word ~ Verbe Nature
silver + sun prints by Susannah Hays
August 27 – October 25, 2008
Press Coverage: East Bay Express
what light do you like . . .
Susannah Hays, experiential photographer and book artist, reveres light of afternoon . . . when all begins to slow, when energy feels softer, relaxed and the heavy want of the day has dissipated.
At that time, there unfolds a unique poetic language with nuances in light and shadow. Susannah recognizes and allows images to take form in an organic sort of way, on their own time, to ultimately become photographic prints.
This work is about discovery and recognition – what is underneath the skin, so to speak, and the structure that makes things real. An image may be a found piece of paper – often profound, or a skeleton of a fallen leaf; the shadow of a translucent glass bottle, or the flicker of dancing light on a sidewalk. These slivers of moments in time echo the stuff we are made of which at times is sublime yet all the while referencing veracity. It is a reaffirmation of what one already knows and yearns to hold; our hopes and needs to mend our lives.
Her work is indeed slow, a prolonged art. Susannah's exquisite images are precise drawings made by sunbeams of light. They remind us how the sun preserves the earth's relationship to all that we see and know. Her images are not clever and quick views to see and configure, but rather invite perusal of and about the complex web of life.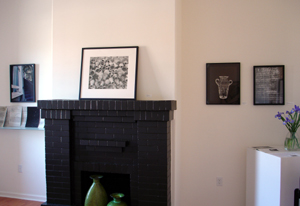 A Bay Area resident for over thirty years, Susannah Hays earned her MFA in Photography from the San Francisco Art Institute and her MA in Visual Studies from the University of California, Berkeley, College of Environmental Design. A founding member of the Entropy/Consciousness Institute in San Francisco, she teaches interdisciplinary thought and studio practice at the San Francisco Art Institute and California College of the Arts. Her work has been exhibited nationally and is held in numerous private and public collections.
Susannah makes pictures revealing the essential interconnectedness of systems in our universe. She moves quietly in the footsteps of Henry Fox Talbot and other early pioneers of photographic image making. Without use of lens or further manipulations, permanent shadowgraphs are rendered by the sun. Susannah applies iron salts to tissue weight, translucent Japanese Torinoko Gampi papers. As our earth gradually cycles around the sun, the salts visibly transform the papers, marking time unfolding.
| | | |
| --- | --- | --- |
| | | Limited Edition exhibit posters are available for $10. These vibrant posters measure 11 x 17 inches and are gloss coated for durability. To have one mailed to you today, call the gallery at (510) 625-1600 or email nonesuch@paragon-media.org. |