artist exhibitions: current | upcoming | past | submissions
Truth and Consequences
Assemblage / Collage Works by Kamal Al Mansour
February 4 - March 28, 2009
The Preponderance of Time,
and Impatience of the Old

NONESUCH SPACE presents Truth and Consequences, an exhibition of powerful collage and assemblage works by Fremont artist Kamal Al Mansour. In this solo show Al Mansour brings a fresh perspective to the examination of identity, culture and history by creating art of astonishing aesthetic integrity and searing moral power. Truth and Consequences features work based on socio-political, religious and cultural themes. These themes originate in historical events and personages that continue to resonate in contemporary culture. Al Mansourís technically precise, realistic figurative depictions are influenced by master draftsmen Charles White and Richard Wyatt. His use of assemblage/collage is partly influenced by the Los Angeles assemblage movement of the 1960s and 70ís, in which Black artists were at the center. This combining of art genres with digital enhancement has become Al Mansourís signature style - cutting-edge and traditional at the same time.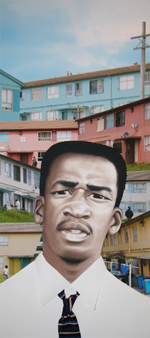 By creating compositions that visually change perceptions and inspire dialogue within and beyond the diaspora, Al Mansourís images become much more than "truth and consequences." In his piece, "The Preponderance of Time, and Impatience of the Old," an old man ponders the time in which he has lived, as referenced by and parallel to the book titles in the library. This character grows impatient at the promise and potential of the Black community hindered by lack of widespread achievement and attainment. Although the elder remains steadfast, he also sees time as a factor and a need for the current generation to bear responsibility and pick-up where his left off.
Born in 1959 in Los Angeles , California , Kamal Al Mansour graduated from the University of California , Los Angeles in 1981 with a degree in political science. In 1984, he obtained his Juris Doctorate degree from the University of California Hastings College of the Law in San Francisco . Almost 30 years after he began college as an art major, Al Mansour had his first solo exhibition in 2005, and since has exhibited regularly in the Bay Area as well as nationally. In 2007, he established himself as a Bay Area artist of note, with work in the Richmond Art Centerís "11th Annual The Art of Living Black."