artist exhibitions: current | upcoming | past | submissions
The Sacred Feminine
watercolors and mixed media by James Gayles
March 7 - 29, 2008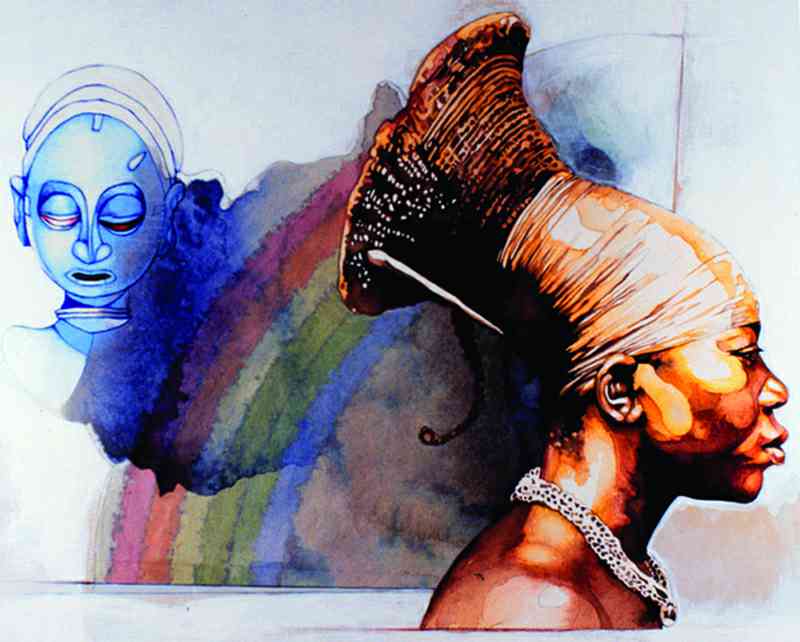 Golden Lady
Sacred Feminine
From the mythological Queen Califia
to the playwright's creation of Pretty Pearl
to the African Tribal women of the Karo, Zulu and Masai
to the lady drummers and dancers of the
Awe and Les Ballets Afrikaans
to the sultry blues, rhythm and blues and jazz divas

all demonstrate that magnificent strength, beaugy, sensuality and regalness that is
womanhood.
From the great grandmothers, grandmothers, mothers, and aunts
to the sisters, nieces, daughters and granddaughters
to all the ordinary extraordinary women
no matter what age, size, shape or color
As an artist with my brush, I celebrate and pay tribute to the
Sacred Feminine.

James Gayles
Oakland, CA
March 2008

From his large repertoire of paintings, renowned watercolorist James Gayles offers a vividly stunning portrait series, The Sacred Feminine, portraying the divine in women around the world, from Oakland to the Masai in Africa.
Emmy Award winning artist James Gayles attended Pratt Institute in New York where he simultaneously pursued careers in both fine and commercial art. He recently won a public art commission from the City of Oakland Craft and Cultural Arts Department in which he transferred his figurative painting technique to ceramic tile murals. In 2003 he was honored at the Art of Living Black by receiving the Jan Hart-Shuyers Award.
Art critic Adam Mikos writes, "Gayles clearly has a special touch with watercolors. Each portrait shows mastery over different styles of the medium from dreamy realism, hard-edged contours, and his abstract push and pull on perspective. Gayle's use of color, bright reds, oranges, and blues, catch the eye immediately and allow the lyrical quality of the watercolors to lift off the wall."