artist exhibitions: current | upcoming | past | submissions
Roots of My Heart
Daniel Camacho | paintings, drawings and banners
May 2 – July 19, 2008
Press: East Bay Express and Vision Hispaña
Banners, available for sale:
Multicultural Place,
2001, 51 x 68 in. acrylic on canvas
El Pinatero / Immigrant,
2001, 51 x 70 in. acrylic on canvas
Contact the gallery for more information.
For over 20 years, internationally renowned mural artist Daniel Camacho has devoted his life to public art, capturing people's experiences and creating images that empower them in their work for social change. Roots of My Heart is his first solo show, featuring work created over the past 8 years: drawings and paintings never before exhibited, as well as his trademark banner-style paintings.
Daniel Camacho was born in Mexico City, where he began his career in visual arts. He has been a community artist, cultural worker and resident here in Oakland for the past 12 years (and for many years prior, in Mexico). His artwork represents his beloved homeland, with all the joys and sorrows, traditions, celebrations, and subtleties of every day life.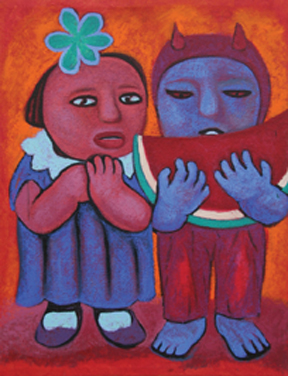 Whispering / Cuchicheando
In these current times of war, Daniel's work shows people finding hope, enthusiasm and happiness as life goes on and human dignity survives. His images capture the joys of ordinary people – marriage, flirtatious whispering, and a child with a giant lollipop by the side of a duck-filled lake.
In Whispering, Daniel includes a slice of juicy sweet watermelon that is bright red, green and white, symbolizing the roots of his heart in the colors of the Mexican flag. It is also the sweet food of contentment as he remembers his homeland. In this painting, Daniel uses a diablito costume, a common element in his work. To him, costumes and masks allow people to hide, or protect themselves behind an image, in order to express parts of a cultural heritage that might otherwise be invisible. His use of masks, although often playful, is a reminder of how we often have to shut out real feelings and experiences, and portray something we are not. It is a tribute to those who have had to suppress their past in order to face the future.
The paintings of women in the exhibition were inspired by the influences of Daniel's mother, "Mi madre – the part that represents the person who raised me, educated me, and helped me become the person I am today. Always, in my paintings, a woman is at the center, because that is who I learned from." Many other images from Mexico are used to illustrate what has and continues to influence Daniel — things he has lived and seen. "The most important part of who I am is rooted in Mexico, where I grew up, where I know who I am because the roots of my heart are in Mexico."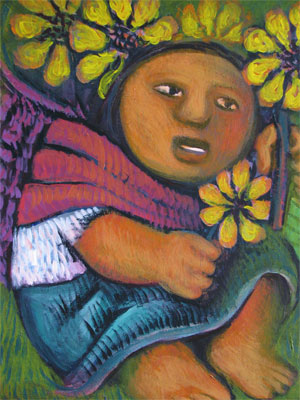 Flower Vendor / Vendedora de Flores
Biography

Daniel is an alumnus of the Nat'l Institute of Fine Arts, La Esmeralda, and the Nat'l School of Visual Arts, San Carlos, at the UNAM (both in Mexico City). He has painted murals in the Bay Area, and around the world, including the "Dimond" in Oakland's Dimond District, recently torn down by Peet's Coffee. The City of Oakland has recognized his work with five cultural arts awards. Last year he used the award to create a series of ten banners, Looking for Hope, on the theme of alternatives to violence. He often loans this and other work out to school groups and organizations that use it for various events. Daniel continues to work with numerous museums, schools, other artists and community organizations throughout the East Bay.